Campaign of the Month: May 2013
The Dark Queen of the West
Welcome to the 2010 Northwestern Wildcats Football Team
2010 Northwestern Wildcats
OFFENCE
| | | | | | |
| --- | --- | --- | --- | --- | --- |
| Position(#) | Name | Ht. | Wt. | Year | Age |
| QB#17 | Colin Kaepernick | 6'6" | 224lbs | Senior | 23 |
| QB#9 | Jeff Tuel | 6'3" | 21lbs | Sophmore | 20 |
| RB#24 | DeShawn Little | 6'0" | 210lbs | Sophmore | 20 |
| RB#27 | Harold Mann | 6'4" | 227lbs | Junior | 21 |
| FB#31 | Junior Grant | 6'6" | 245lbs | Junior | 21 |
| WR#80 | Clarence Smith | 6'3" | 196lbs | Senior | 22 |
| WR#81 | Jefferson Milne | 6'2" | 189lbs | Junior | 21 |
| WR#84 | Campbell Scott | 5'9" | 180lbs | Sophmore | 19 |
| WR#86 | Weston Dressler | 5'7" | 177lbs | Sophmore | 20 |
| TE#83 | Curtis White | 6'4" | 234lbs | Freshman | 19 |
| TE#87 | Brandon Williams | 6'4" | 224lbs | Junior | 21 |
| C#56 | Justin Fitz | 6'3" | 277lbs | Senior | 22 |
| OL#64 | Max Forer | 6'3" | 267lbs | Senior | 22 |
| OL#57 | Trevor Fox | 6'6" | 271lbs | Freshman | 19 |
| OL#71 | Everett Beynard | 6'7" | 326lbs | Freshman | 19 |
| OL#72 | Kent Phillips | 6'5" | 281lbs | Sophmore | 20 |
| OL#58 | Jacob Miller | 6'6" | 314lbs | Sophmore | 20 |
Key Players: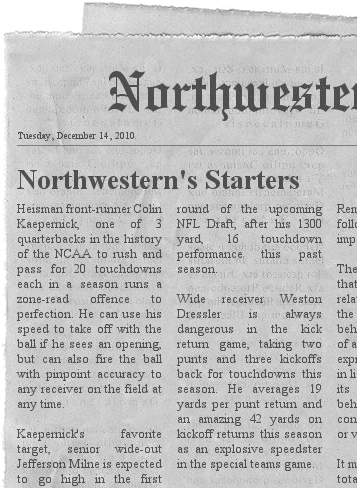 Heisman front-runner Colin Kaepernick, one of 3 quarterbacks in the history of the NCAA to rush and pass for 20 touchdowns each in a season runs a zone-read offence to perfection. He can use his speed to take off with the ball if he sees an opening, but can also fire the ball with pinpoint accuracy to any receiver on the field at any time.
Kaepernick's favorite target, senior wide-out Jefferson Milne is expected to go high in the first round of the upcoming NFL Draft, after his 1300 yard, 16 touchdown performance this past season.
Wide receiver Weston Dressler is always dangerous in the kick return game, taking two punts and three kickoffs back for touchdowns this season. He averages 19 yards per punt return and an amazing 42 yards on kickoff returns this season as an explosive speedster in the special teams game.
DEFENCE (later)
First Pre-season article of 2010
Wildcats football ready for training camp
Gary Edwards, Chicago Tribune
The 2010 edition of your Northwestern Wildcats football team has been selected an they're ready to get on with training camp.
"I expect that we'll be very competitive again this season," said head coach Yonus Fitzsimons in his first press conference of the year.
"Colin [Kaepernick] is back, which is somewhat surprising," he laughed, "as he easily could've been off to the NFL after what he did for us the past few years," referring to Kaepernick's overall 30-6 record as the starting quarterback for the Wildcats, with only one loss in each of the past two seasons.
Kaepernick led the team to back-to-back Big 10 championships in the past two seasons, which led to two Rose Bowl appearances. They lost to the University of Arizona two years ago in a nail-biter (35-33) but beat the University of Southern California handily in January (42-17).
"I came back to finish what I started," said Kaepernick when asked about his decision not to declare for the draft after last season. "I came back to win Fitzy his Championship," he said laughing, though nobody doubts that to be a very real possibility.
After going 11-1 in each of the past two seasons, this year could very well be the year for Fitzsimons and the 'Cats. Clarence Smith, the squad's leading receiver last season, is also returning for his senior year, and is joined at the position by Junior Jefferson Milne, who showed himself to be a promising young star in the game last year, pulling down 92 passes for 988 yards and nine touchdowns for the Wildcats.
Justin Fitz and Matt Forer are back anchoring the offensive line as well, and will try to keep the pressure off Kaepernick as well as open some holes for running backs DeShawn Little and Harold Mann, both of whom are expected to make a huge impact for the 'Cats offense, which ranked fifth in NCAA division 1 last season in rushing yards per game.
"I think our defence has improved, as well," added Fitzsimons, "though it was definitely a blow to lose Jared [McKinnon] and LaRon [Burnett]."
McKinnon had six interceptions last season, returning two for touchdowns, and was voted NCAA defencive player of the year, before being drafted fifth overall in the NFL draft by the Arizona Cardinals.
Burnett led the team in sacks (11.5) and knockdowns (15) last season and played havoc on opposing quarterbacks all year. He also went in the first round of the NFL draft (18th overall, Green Bay Packers).
It will be very interesting to find out if Fitzsimons can overcome those key losses and keep opponents off the scoreboard, which he will need to do in an always competitive Big 10 conference, and finally make his way to a BCS National Championship.